Imagine this: You're meandering through your cozy living room, a warm cup of tea in your hands, when suddenly you feel an unexpected bounce beneath your feet. It's an unusual feeling, a springiness in your floor. While easy to dismiss as a mere quirk of your home, it might be a warning sign of an unseen issue hiding within your home's crawl space.
What are Bouncy Floors?
Bouncy floors occur when there's a subtle give or bounce as you walk across them. Though it may initially seem inconsequential, or even funny, it can actually indicate an underlying structural issue in your home relating to your crawl space.
Why Bouncy Floors are a Problem
Bouncy floors are not just about discomfort or annoyance; they are a telltale sign of potential structural issues in your home. These can include deteriorating floor joists, weakening support beams, or moisture-related damage. If ignored, these problems could escalate, leading to even more expensive repairs and potential safety risks.
What Should I be Looking for in My Home?
Apart from the noticeable bounce as you walk across, you may also observe additional signs such as squeaking sounds, visible sagging, or gaps between the floor and baseboards. Cracks in your drywall or doors and windows becoming hard to open and close can also hint towards the underlying issues.
What Causes Bouncy Floors in My Home?
While various factors can contribute to bouncy floors, a prevalent cause is a compromised crawl space beneath your home. These can include:
Over-Spanned Joists: If the joists supporting the floor above your crawl space are placed too far apart or excessively long for their depth, they can become over spanned. This incorrect spacing can make the joists bounce or flex excessively.
Inadequate Support: If floor supports like posts or beams are not correctly installed or have shifted, they can quickly fail to provide the necessary support, resulting in bouncy floors.
Weakened Joists: Wooden floor joists can weaken over time due to excessive moisture, wood rot, pest damage, or general wear and tear.
How Can Mount Valley Foundation Services Fix Bouncy Floors in My Home?
Although bouncy floors are a common problem, every home is distinct and requires a solution that is tailored to its specific needs.
The degree of damage and the underlying cause will dictate the exact repair necessary for your bouncy floors. Potential solutions may include:
Installation of additional supports
Joist replacement
Crawl space support post installation
Crawl space waterproofing with drainage and a sump pump
Why Should You Trust Mount Valley Foundation Services?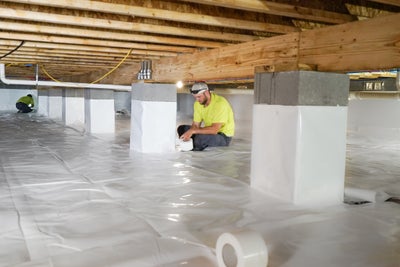 With Mount Valley Foundation Services, you're putting your home in the hands of professionals who genuinely care. Serving homes across South Carolina and Western North Carolina, we bring our extensive experience, expertise, and commitment to every project. We pride ourselves on treating every home like it's our own, with the utmost care and respect.
Contact Mount Valley Foundation Services today, and let us help you restore the solidity and safety of your home. We are here to turn your living space into the secure, comfortable haven you deserve
FAQs: Bouncy Floors
While it's true that some minor fixes can be managed personally, it's recommended to enlist the expertise of a professional when dealing with bouncy floors. This is because bouncy floors typically indicate deeper structural issues that may not be visible or easily detectable without proper knowledge and tools. A professional can perform a comprehensive assessment, ensuring that the true underlying problem is correctly identified and effectively addressed to prevent future complications.
The cost of rectifying bouncy floors can fluctuate based on various factors. This includes the degree of the damage, the complexity of the required remedy, and any additional services that may be needed, such as crawl space encapsulation or moisture control. At Mount Valley Foundation Services, we understand the importance of cost considerations, which is why we provide free estimates. Our experts will carefully assess the situation, discuss the necessary steps with you, and give you a clear, no-obligation estimate of potential costs.
Don't allow bouncy floors to jeopardize your home's comfort and safety. Get in touch with Mount Valley Foundation Service today for an expert inspection and repair of your uneven floors. Trust us to provide you with the best possible service, backed by the expertise and trustworthiness of the Groundworks family of companies.