Maintaining a healthy and dry crawl space is crucial for the overall well-being of your home. The state of your crawl space has a far-reaching effect, influencing the air quality of your entire home and the efficiency of your heating and cooling systems.
If you've noticed your floors feeling particularly cold in the winter or your air conditioner working overtime during summer, it might be time to reconsider your crawl space insulation. Mount Valley Foundation Specialists can help you diagnose and solve these issues with our custom engineered solution, ExTremeBloc™ Crawl Space Insulation.
A Closer Look at Crawl Space Insulation Types
When choosing insulation for your crawl space or any part of your home, it's important to consider its R-value – a measure of its resistance to heat. The higher the R-value, the more effective the insulation. Here are a few of the most commonly used insulation materials:
Fiberglass: A popular choice due to its ability to slow down heat transfer. However, it's prone to water absorption and can harbor pests and mold. Its R-value typically ranges from 2.2 to 3.8.
Cellulose: A fire-resistant and eco-friendly option, usually made from recycled materials. It can be challenging to install and its R-value varies between 3.1 and 3.8.
Polyurethane Foam: A lightweight insulator with a superior R-value of around 6.3 per inch. It's low-density and can be easily sprayed into non-insulated areas.
Polystyrene (EPS): A waterproof insulator with good thermal properties. It can be cut into blocks or panels, and its R-value ranges from 3.6 to slightly above 4.
Why ExTremeBloc™ is the Superior Crawl Space Insulation Solution
At Mount Valley Foundation Specialists, we use ExTremeBloc™ to insulate crawl spaces. This proprietary insulation material combines highly effective graphite-impregnated insulation with an expanded polystyrene core and a built-in radiant heat barrier surface. The result is a superior R-10 insulation value for your crawl space walls.
The ExTremeBloc™ Insulation offers the following benefits: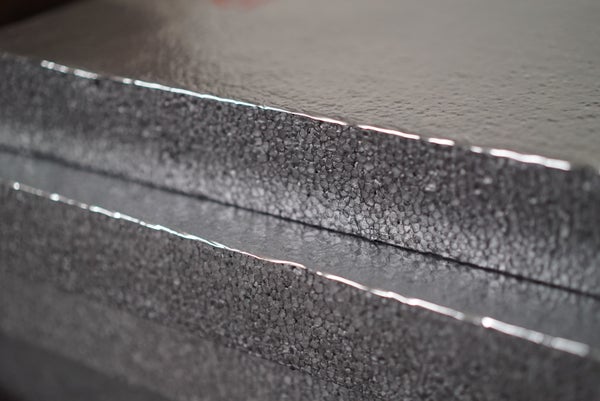 High Energy Savings: With a graphite-enhanced, expanded polystyrene core, ExTremeBloc™ can reduce energy usage by 15-20%.
Long-term Moisture Absorption: By deterring crawl space moisture penetration, ExTremeBloc™ helps prevent mold, fungus, pest infestations, and wood decay.
Durability: The polymeric film facer on both sides of the panels ensures that ExTremeBloc™ withstands transportation, storage, and installation processes without losing its insulating value.
Easy to Install and Clean: The rigid ExTremeBloc™ panels are easy to install on crawl space walls and can be wiped clean of any dirt or debris.
Environmentally Friendly: Unlike competing products that contain harmful gases, the insulating cells of ExTremeBloc™ contain air, making it an eco-friendly solution.
Pest and Termite Resistance: With an integrated termiticide added during the manufacturing process, ExTremeBloc™ deters termites and pests from tunneling through the panels and damaging your wooden structures.
Let Mount Valley Foundation Specialists Assist You
Are you unsure about the state of your crawl space? Let Mount Valley Foundation Specialists guide you towards the best solution for your home. Upgrading to ExTremeBloc™ Crawl Space Insulation – a leading solution and vital component of our comprehensive home water management system – could transform your home's energy efficiency and health, and you deserve to have that professional insight at your disposal. Don't let concerns about your crawl space linger and potentially impact the rest of your home – reach out to the trusted experts at Mount Valley Foundation Specialists.
We can help you identify the root cause of your crawl space issues and recommend the most effective course of action. Contact us today to schedule your free inspection and estimate.