Cracked Driveway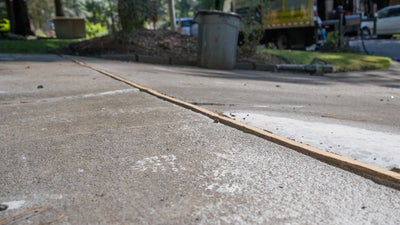 Although common, a cracked driveway is an issue homeowners shouldn't overlook. Not only does it mar your home's aesthetic, but it's also a significant safety concern.
From children playing to elderly folks walking, anyone can trip over a cracked driveway. These breaks can also damage your car and the very foundation of your home.
Mount Valley Foundation Services is your go-to expert in resolving this widespread problem. We bring you top-notch concrete lifting solutions that last. With us, homeowners rest easy, knowing their homes are both safe and beautiful.
On this page, you'll learn why driveways crack and how our concrete lifting can help.
What Is a Cracked Driveway?
Simply put, a cracked driveway often presents fractures or breaks, ranging from tiny, almost invisible lines to big, clear splits.
Cracked driveways aren't just unpleasant to look at; they're safety hazards. They can cause trips and falls, potentially leading to injuries.
If your driveway's got cracks, other parts of your property might be damaged too, including:
Damaged concrete patios
Sinking concrete slabs
Concrete driveways can crack for many reasons, making it crucial to get expert inspection and repair services. Mount Valley Foundation Services provides premier concrete lifting services to help reduce safety risks and stop more damage. Reach out to us as soon as you spot these issues to minimize complications and repair costs.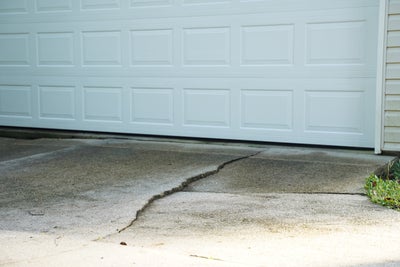 What Causes Driveway Cracks?
Many factors can cause concrete driveways to crack. Here is out list of the most common culprits:
Soil Problems: Settling or eroding soil underneath the driveway causes uneven stress and cracking.
Trees: Tree roots growing under or near the driveway exert upward pressure and create cracks.
Precipitation: Excessive rain or flooding that erodes and undermines soil.
Other Weather Issues: Freeze-thaw cycles allow water to seep into cracks and expand when frozen. Concrete also undergoes normal expansion and contraction over time as temperatures fluctuate.
Construction Issues: Poor concrete pouring or curing during original construction makes concrete driveways susceptible to damage.
Heavy Vehicles: From compact cars to full-size pickup trucks, vehicles are heavy items weighing thousands of pounds. This strains concrete driveways and the underlying soil over time, leading to cracks and sunken slabs.
These factors can also impact your home's foundation, so it's crucial to address them promptly. That's where our experts come in with effective solutions.
Can You Fix a Cracked Driveway?
Certainly, damaged concrete driveways can be restored to their original state. But merely patching the cracks with sealants or employing conventional mudjacking methods, or even re-pouring the concrete, are only temporary fixes.
For a comprehensive repair of cracks and uneven sections, it's essential to tackle underlying issues such as unstable soil. Concrete lifting stands out as the prime solution, elevating sunken parts and reinforcing the driveway. Mount Valley delivers tailored solutions that promise enduring outcomes, guaranteeing every repair meets the highest standards.
How to Fix a Cracked Driveway
Mount Valley's certified concrete driveway repair process includes:
Completing an initial inspection, identifying the cause, and determining appropriate repair solutions, such asSettleStop™ PolyRenewal™.
Drilling small, penny-sized holes into affected driveway areas.
Placing injection ports in the holes.
Mixing together a two-part, closed-cell polymer foam.
Injecting foam under driveway slabs.
Allowing the foam to expand, fill any voids, and cure within 15 minutes.
Lifting the slab and stabilizing the soil.
Removing injection ports and filling and smoothing the drilled holes.
Applying sealant to cracks and joints to prevent further damage.
Regularly maintaining and monitoring your concrete driveway.
Our advanced PolyRenewal™ solution is designed to fix concrete quickly and accurately. It's better and less disruptive than other methods.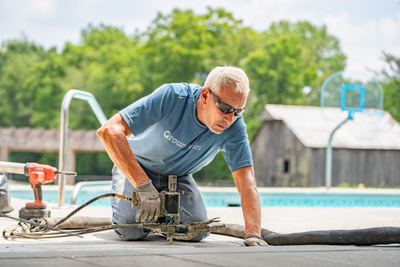 Why Address Driveway Cracks Now
Prevent Damage: Early repairs can stop bigger problems.
Stay Safe: Cracks can cause accidents.
Increase Value: A good driveway boosts your property's appeal and worth.
Save Money: Acting now avoids costlier repairs later.
Don't settle for less. With our PolyRenewal™ system, your driveway will be stable and level. Let Mount Valley's concrete lifting solutions be the convenient and reliable fix your home needs. Schedule your free inspection today.
Contact Mount Valley for Trusted Concrete Lifting Solutions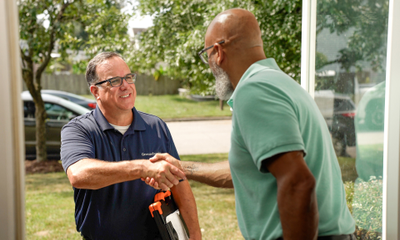 Don't let a flawed driveway undermine the safety and allure of your residence. If you're dealing with a cracked, sagging, or uneven concrete driveway, Mount Valley's concrete experts are here to assist. Reach out to us now to schedule your complimentary inspection and quote.
We recognize the challenges posed by cracked driveways. That's why we're committed to delivering top-notch, enduring concrete lifting services. With our PolyRenewal™ method, we can swiftly and accurately elevate and secure sunken concrete slabs, ensuring a job well done from the outset.
FAQs
Mount Valley's PolyRenewal™ is a cutting-edge solution designed for speed, accuracy, and durability. Unlike traditional methods that can be disruptive and offer temporary fixes, our PolyRenewal™ method provides a more permanent solution. It's designed to address the root causes of concrete sinking and cracking, ensuring longer-lasting results with minimal disruption.
Absolutely! Mount Valley is equipped to manage both residential and commercial concrete lifting projects. Whether it's a home driveway or a large commercial space, our team of experts uses the same dedication and advanced technology to deliver top-notch results. Call us today to learn more.
One of the advantages of our PolyRenewal™ method is the speed of the curing process. Typically, you can use your driveway within a few hours after the treatment. However, our team will provide specific guidance based on the size and condition of your project.
Publish Date:
Last Modified Date:
Explore more problem signs