Driveway Repair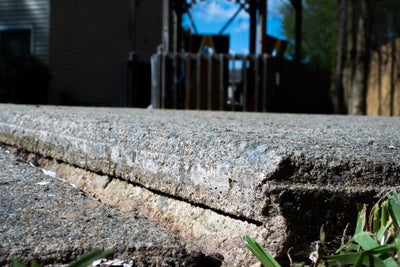 A cracked and sinking driveway not only diminishes your property's appeal but can also decrease its market value and introduce safety hazards.
While these concerns can escalate to serious issues, with Mount Valley Foundation Services, there's no need to worry. Our specialized concrete lifting method offers an ideal solution to revive the functionality and appearance of your driveway. Our approach uses a unique lightweight foam, injected beneath the driveway, which efficiently lifts and solidifies the concrete slabs for an enduring and effective fix.
Over the years, countless homeowners have chosen Mount Valley for their concrete lifting needs, recognizing our dedication to unmatched service and sustainable solutions throughout South Carolina and Western North Carolina.
Continue reading to learn more about our innovative concrete driveway repair service and learn why it stands out as the top choice for homeowners.
Understanding Concrete Driveway Repair 
Concrete driveway repair involves addressing and rectifying the damaged, cracked, or sunken sections to restore its stability and visual appeal.
While some might resort to traditional methods such as mudjacking, these can be more costly, invasive, and not always durable. Furthermore, they might overlook the actual causes of the damage.
Mount Valley Foundation Services takes a novel approach, using foam injections for concrete lifting. This method addresses problems arising from unstable soil and excess moisture, ensuring a repair that lasts. A refurbished driveway not only uplifts the home's visual appeal but also enhances its potential resale value.
Recognizing the Need for Driveway Repair 
Addressing driveway issues proactively can save significant time, money, and hassle. Indicators that your driveway requires attention:
Visible Cracks: Prominent cracks or splits surpassing ¼".
Uneven Surfaces: Sections that have sunk or elevated in the driveway.
Water Pooling: Consistent water accumulation in particular areas.
Eroding Edges: Edges that are breaking away.
Surface Issues: Such as pitting, flaking, or color anomalies on the concrete.
For efficient and reliable driveway repair solutions in your region, Mount Valley Foundation Services is the trusted choice.
Why it's important to Quickly Address Concrete Driveway Repair 
It's indispensable. Factors like fluctuating soil conditions and the repeated freeze-thaw cycle can expedite driveway degradation.
Delaying repairs can allow moisture to exacerbate the erosion beneath the driveway. A proactive approach ensures a cost-effective resolution and allows our specialists to ascertain if foundational shifts might be contributing to the driveway's deterioration.
Advantages of Concrete Driveway Repair with Mount Valley 
Choosing to repair your driveway via concrete lifting offers myriad benefits:
Prevention: Addressing issues now prevents further degradation.
Safety First: A smooth driveway surface reduces potential trip hazards.
Aesthetic Appeal: A refurbished driveway elevates the home's overall look.
Customized Solutions: Mount Valley experts design tailored solutions to cater to each property's unique needs, ensuring longevity.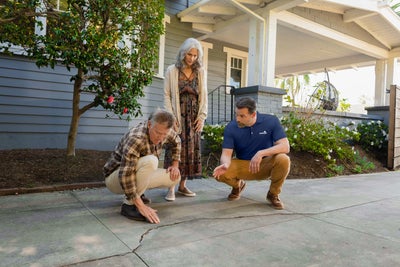 Mount Valley's Driveway Repair Process 
Our concrete lifting technique encompasses:
Detailed inspection to identify the root issue and the optimal solution.
Drilling small, strategically located holes.
Installing injection ports.
Creating a specialized polymer foam.
Injecting this foam below the driveway slabs.
Allowing the foam to set, typically within about 15 minutes.
Stabilizing the lifted slab and the underlying soil.
Application of sealants to ward off potential future damage.
Choosing Mount Valley Foundation Services ensures each step is meticulously executed, delivering lasting repair.
Why Mount Valley is the Foremost Choice for Driveway Repair 
Our concrete lifting procedure provides unparalleled advantages:
Precision: Detailed stabilization and lifting.
Minimal Disruption: No need for bulky machinery or expansive digging.
Quick Results: Swift curing times post-repair.
Longevity: Designed to withstand environmental challenges.
Get in Touch with Mount Valley Foundation Services Today!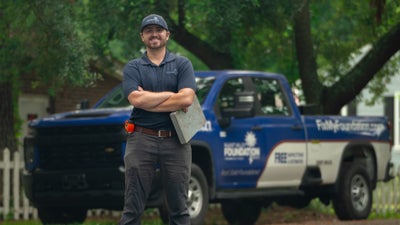 Don't let a fading driveway compromise your property's beauty or safety. Throughout our service region, Mount Valley Foundation Services offers cutting-edge concrete lifting services, ensuring your driveway is both functional and visually appealing.
Contact us now to schedule your free inspection and estimate. Our track record of exceptional service and unmatched outcomes speaks volumes. Allow us to assist you in rejuvenating your property.
FAQs
Yes, our concrete lifting foam is designed to be sustainable and has minimal environmental impact, aligning with our commitment to eco-friendly solutions. 
Our foam injection method offers a durable and long-lasting solution. While all materials can degrade over time, our method is designed to provide many years of stability and support, outlasting many traditional repair methods. 
Absolutely! While our discussion here focused on driveways, the foam injection method can be effectively used for various concrete surfaces, including patios, sidewalks, and more. 
Publish Date:
Last Modified Date: