WallSeal™ Basement Wall Vapor Barrier
The misconception that damp, musty basements are just an aspect of homeownership is widespread, but such issues can lead to potential health and safety risks. Fortunately, there is an effective remedy available.
Basement wall vapor barriers, along with additional basement waterproofing solutions, are designed to keep moisture at bay—ensuring a dry basement. Mount Valley Foundation Services, a leader in moisture control, offers the AquaStop WallSeal™ Basement Wall Vapor Barrier to shield your home from potential water damage effectively.
Read on to gain some invaluable knowledge on permanently resolving your basement's moisture problems.
What is the AquaStop WallSeal™ Vapor Barrier? 
AquaStop WallSeal™ Vapor Barrier, with its 12-mil thickness, is a superior-quality barrier crafted to halt moisture infiltration in your basement walls.
It is securely affixed to the wall, channeling any leakage down to our AquaStop BasementGutter™ interior drainage system, providing immediate respite from damp walls. Being a finish-ready vapor barrier, it forms part of a comprehensive home solution for ideal living conditions.
Pairing our vapor barrier with other essential waterproofing solutions, such as a sump pump and dehumidifier, results in a well-rounded system that safeguards your property and augments your home's worth.
Signs You Need a Basement Wall Vapor Barrier 
If you observe any of the following prevalent basement issues, your home might benefit from a vapor barrier:
Addressing these issues promptly is vital, as neglect could escalate into structural damage and health concerns. Reach out to a local professional like Mount Valley Foundation Services at the first sign of these basement problems.
Is a Basement Wall Vapor Barrier Necessary?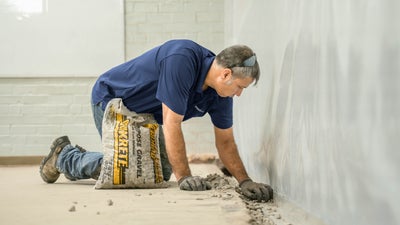 Absolutely, incorporating a basement wall vapor barrier is crucial for a thorough basement waterproofing strategy.
Moisture can infiltrate even seemingly intact basement walls over time due to the porous nature of concrete, leading to "invisible" dampness and the aforementioned issues.
Addressing this problem promptly prevents further damage and avoids more complex and expensive repairs later on. AquaStop WallSeal™ Vapor Barrier is fundamental in our whole-home solution, ensuring a dry and healthy living environment.
What Are the Benefits of a WallSeal™ Vapor Barrier? 
This robust vapor barrier brings multiple benefits:
Durability: Manufactured from top-grade materials, it offers consistent, long-term protection.
Healthier Living: It lowers humidity and stops mold growth, fostering a healthier home.
Odor Elimination: It blocks moisture, eliminating damp, musty smells, especially when used with a dehumidifier.
Property Safety: It keeps your possessions safe from dampness, which can lead to corrosion and damage.
Value Addition: A well-maintained, dry basement can significantly enhance your property value.
For optimal results, proper installation by our certified technicians at Mount Valley Foundation Services is essential, utilizing proprietary products and methods to assure a dry, healthy basement.
How the WallSeal™ Vapor Barrier Works 
Upon a thorough inspection by a Mount Valley Foundation Services specialist and determination of the need for the WallSeal™ Vapor Barrier, it is installed alongside other waterproofing solutions. The installation process includes:
Wall Cleaning and Preparation
Secure Attachment of WallSeal™ Sheets
Interior Drainage and Component Installation
Sump Pump Placement at the Lowest Basement Point
Connection of Interior Drainage to the Sump Pump
Basement Dehumidifier Installation
Here's how the complete system functions:
Water leaking through the walls is directed by WallSeal™ to the drainage system.
The water in the drains is channeled into the sump pump.
The sump pump then expels the collected water.
Lastly, any residual moisture is removed by the dehumidifier.
When installed by Mount Valley Foundation Services, you can trust in a professional installation.
Why Our Basement Wall Vapor Barrier is the Best Choice for Your Home 
The WallSeal™ Vapor Barrier stands out due to:
Premium Quality: It features a 12-mil thick material for optimal moisture protection.
Mold and Water Resistance: The material is resistant to both mold and water.
Permanent Adhesion: It is permanently adhered to walls to avoid leaks.
Seamless Integration: It integrates smoothly with our complete waterproofing system.
Comprehensive Warranty: Full warranty protection is included.
Maintenance Plans: Annual maintenance plans are available.
Unlike thin, problematic vapor barriers from big-box stores, the WallSeal™, exclusive to Mount Valley Foundation Services, guarantees a drier basement.
Contact Mount Valley Foundation Services for Basement Wall Vapor Barrier Solutions Today!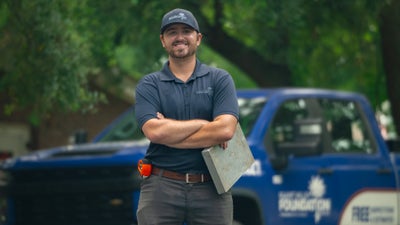 Say goodbye to a damp, humid basement. Elevate your home with a vapor barrier and a comprehensive basement waterproofing system from Mount Valley Foundation Services. Reach out today for a complimentary, obligation-free inspection and estimate.
For over 15 years, we have assisted homeowners across South Carolina and Western North Carolina in safeguarding their basements. Our dedication to customer care and proprietary products are unparalleled. Entrust us with restoring your home's health and your peace of mind.
FAQs
Absolutely, it's crafted to foster a healthier living space by curbing moisture and mold growth. It also complements our other basement waterproofing solutions. Contact Mount Valley Foundation Services for further information and to schedule a free inspection and estimate. 
The duration varies depending on basement size, damage extent, and additional repairs. Generally, our teams can install a complete system within a day or two. Contact Mount Valley Foundation Services to schedule a free inspection, an accurate estimate, and a project timeline. 
Designed as a permanent repair solution when paired with other systems, we recommend our annual service plan for optimal performance. Our technicians will perform necessary inspections and repairs to prevent moisture issues. Contact us today to learn more. 
Publish Date:
Last Modified Date: