BasementGutter™ Interior Drainage System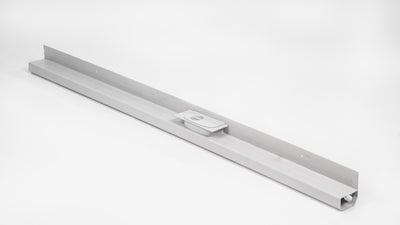 Confronting a leaky, moist basement is a common challenge for homeowners. It not only compromises a safe living space but also poses a threat to your home's structural foundation.
Introducing Mount Valley Foundation Services' AquaStop BasementGutter™ Interior Drainage System—a reliable, enduring answer to your basement moisture problems. As a distinguished name in basement waterproofing across South Carolina and Western North Carolina, we offer a customized drainage solution designed to meet your specific needs.
This page outlines why our uniquely engineered interior drainage system is your first line of defense in maintaining a dry basement and protecting your home.
What is AquaStop BasementGutter™ Interior Drainage?
At Mount Valley Foundation Services, we know the difficulties faced when conventional drainage solutions fall short, leading to a damp basement.
That's where our innovative solution steps in. AquaStop BasementGutter™ Interior Drainage is a sophisticated system installed along the interior boundary of your basement. It efficiently channels water seeping from walls or joints to your sump pump for removal.
Strategically installed above the footing and clear of the "mud zone", it guarantees an anti-clog design. A 3/8" wall flange ensures any wall leakage is directed into the BasementGutter™ system.
Our drainage system is a fundamental element of a comprehensive home waterproofing strategy, ensuring your peace of mind and a healthy living environment.
Signs You Need Interior Drainage
Identifying any of the following indicators calls for considering an interior drainage system:
Ignoring these signs can result in escalated issues and substantial repair expenses. When you observe these symptoms, immediately contact a trusted local expert like Mount Valley Foundation Services.
Is Interior Drainage Necessary?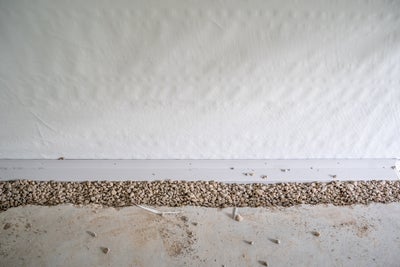 In most cases with a wet basement, the answer is absolutely, yes. Overlooking the necessity of a proficient interior drainage system can result in numerous complications, including structural damage and spiraling repair costs.
We advise against DIY solutions and temporary fixes, as they can lead to further issues and expenses. Relying on experienced professionals like our team at Mount Valley Foundation Services is the advisable route.
Incorporating AquaStop BasementGutter™ into our all-encompassing solutions ensures the durability and security of your home.
Benefits of AquaStop BasementGutter™ Interior Drainage System
Prevents Water Damage: The BasementGutter™ system quickly collects and diverts water away from walls and floors before it has time to cause expensive damage. Your belongings remain dry and mold growth is inhibited.
Compatible with Other Solutions: The drainage channels are designed to be installed with our other basement waterproofing solutions. We can also integrate other basement repair and foundation repair systems with it.
Extended Foundation Life: By keeping water away from concrete walls and floors, BasementGutter™ protects your foundation from deterioration and cracking.
Provides Peace of Mind: Our dependable system guarantees efficient water management, alleviating concerns during inclement weather.
To optimize these benefits, employ our specialized solutions and services, engineered to outperform standard offerings.
Installation of AquaStop BasementGutter™ Interior Drainage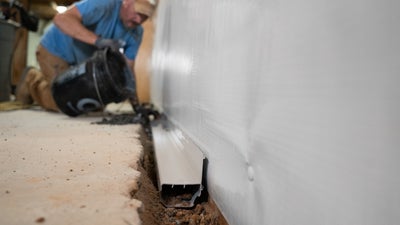 Upon thorough inspection and confirmation of system necessity, our certified installation process involves:
Removing 6-12 inches of concrete around the interior perimeter. Drilling weep holes for facilitated water drainage.
Positioning BasementGutter™ and backfilling with stone.
Applying a vapor barrier on top.
Connecting the drainage channels to the sump pump.
Replacing the concrete flooring.
Our comprehensive approach to basement waterproofing also features the installation of a wall vapor barrier, a dehumidifier, and an anti-freeze exterior sump pump discharge line attachment.
Place your trust in Mount Valley Foundation Services for expert installation and lasting solutions.
Why Opt for Our Interior Drainage?
AquaStop BasementGutter™ Interior Drainage System stands out for several reasons:
Installation clear of the "mud zone"
Cutting-edge anti-clog design
Comprehensive water collection from walls and joints
Seamless integration with various waterproofing components
Backed by an extensive warranty
Protected by annual maintenance service plans
Unlike other alternatives that tend to clog and deteriorate, AquaStop BasementGutter™, exclusive to Mount Valley Foundation Services, remains an effective, dependable solution for a dry basement for years to come.
Reach Out to Mount Valley Foundation Services for Interior Drainage Solutions!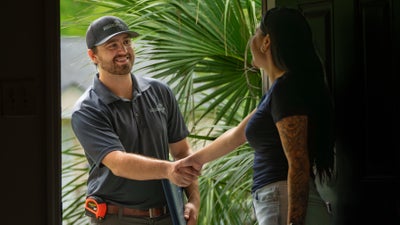 Don't let a damp basement compromise your home's integrity and value. Reach out to Mount Valley Foundation Services for reliable, top-tier solutions. Schedule your free, no-obligation inspection today.
We have been the trusted partner for homeowners in South Carolina and Western North Carolina, offering unmatched protection for your significant investment. We are ready to assist you!
FAQs
Our certified installation process is designed to be minimally invasive. We take great care to work efficiently and maintain the cleanliness and integrity of your living space throughout the installation. 
Absolutely! Once installed, the Mount Valley BasementGutter™ system is discreetly positioned along your basement's interior perimeter. It does not interfere with any future plans to finish or remodel your basement.
No, our system is designed for ease of maintenance, and is covered under our annual service plan. Contact Mount Valley Foundation Services for additional details and to arrange your system's annual maintenance. 
Publish Date:
Last Modified Date: