Channel Anchors: Mounting a Defense Against Foundation Damage
Channel anchors offer an enduring fix for safeguarding and resolving bowing or leaning foundation walls.
At Mount Valley Foundation Services, we pride ourselves on our decades-long experience in solving homeowner's basement problems. Our channel anchor installations not only combat existing foundation deterioration but also preempt the need for more drastic solutions like total foundation replacement. Our seasoned crew manages every stage, from the initial inspection to personalized installation, assuring you of a healthy foundation.
What Are Channel Anchors?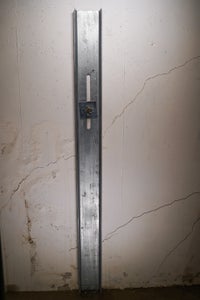 Channel anchors are engineered to tackle the problem of shearing walls in your basement. This anchoring system involves the use of steel earth anchors placed in the stable ground away from your foundational walls. These anchors are connected to the interior of your basement walls by means of threaded steel rods and steel channel brackets.
These channel brackets stretch from the floor to the ceiling and are anchored securely to the basement floor. The mechanism works by leveraging the strength of stable soil to offset the soil pressure, causing inward wall movement. Channel anchors even offer the capability to gradually realign your walls to their original, upright position in some cases.
Five Signs You Need Channel Anchors
You might require channel anchors if your foundation walls manifest:
Shearing at either the top or bottom portions
Pronounced cracks, particularly horizontal or stair-step formations
Inward bowing around the midpoint of the walls
Windows and doors that refuse to operate smoothly
Uneven or sloped flooring
Channel anchors target these issues at their root, relieving soil pressure and fortifying your foundation to prevent further damage.
Why Consider a Channel Anchor System?
Letting bowed walls go untreated can lead to further degradation. The incessant soil pressure and moisture penetration through cracks can exacerbate wall weakening. This may lead to severe consequences like water damage, mold infestation, and high repair costs. In the worst-case scenarios, walls may collapse. Channel anchors offer a durable and reliable remedy, particularly when combined with our holistic basement waterproofing services, thereby precluding these risks and saving on future repair costs.
Advantages of Channel Anchors
The channel anchor systems from Mount Valley Foundation Services provide these invaluable benefits:
Halts and prevents subsequent wall movement
Allows potential realignment of walls over time
Revives structural integrity without requiring a total foundation replacement
Shields against soil pressure and moisture-related damages
Low impact on home and landscape during installation
Simplified installations around existing utilities
By taking preemptive action, channel anchors can protect your home's value while preventing more expensive repair work down the line.
Our 7-Step Anchor Installation Protocol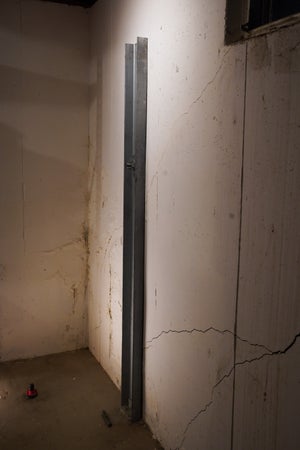 1. Pre-Installation Evaluation
Our certified technicians will conduct a meticulous evaluation to identify the best locations for anchor installation.
2. Boring Earth Anchor Holes
The team will excavate strategically around your foundation to place earth anchors in stable soil.
3. Drilling Holes for Anchor Rods
Small holes are made in your basement walls to accommodate steel rods, which align with the exterior earth anchors.
4. Affixing Rods to Earth Anchors
The steel rods are connected securely to the earth anchors, establishing a united, stable anchoring system.
5. Interior Channel Bracket Installation
Channel brackets are mounted on the inner side of your basement walls, over the steel rods.
6. Floor Bracket Fastening
For optimal strength, the system is anchored to the basement floor through steel brackets.
7. Gradual Wall Realigning
After installation, the system allows for the gradual realignment of your foundation walls in some cases through incremental adjustments.
Why Mount Valley's Channel Anchors Are the Preferred Choice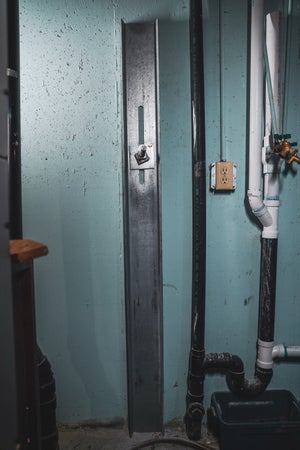 Our channel anchors are custom designed for utmost efficacy
When we say that our channel anchors are custom designed, we mean that they are engineered with the specific needs of your property in mind. Standard solutions often offer standard results, but our approach aims for exceptional outcomes. Our anchors are fabricated from high-quality materials that are known for their strength and durability, thus ensuring that they provide superior support to your foundation walls.
Complimentary Inspection, Quotation, and System Recommendations
We believe the first step to solving a problem is understanding it thoroughly. That's why we offer a complimentary, no-obligation inspection of your foundation. Our certified experts conduct a detailed assessment, noting signs of damage, potential weaknesses, and the overall state of your foundation. Following the inspection, we provide a comprehensive quotation that breaks down costs transparently. But we don't stop there; our experts also offer system recommendations tailored to your specific situation.

Industry-Leading Transferable Lifetime Warranty
One of the cornerstones of our service is the trust we build with our clients, and nothing says trust like a lifetime warranty. Our industry-leading transferable lifetime warranty serves as an assurance of the quality and durability of our channel anchor systems. This warranty is not just a promise to fix any issues that may arise; it's a testament to the confidence we have in the long-lasting solutions we provide. The "transferable" aspect means that the warranty can be transferred to a new homeowner, adding value to your property and a safety net for future buyers.
Acclaimed Quality and Customer Service
At Mount Valley Foundation Services, quality isn't just a buzzword; it's the essence of our operation. From the materials we use to the skill sets of our installation crews, we maintain the highest standards in the industry. We pride ourselves on being attentive, responsive, and proactive in addressing our customers' needs and concerns.
Contact Mount Valley Foundation Services Today!
Don't let foundation problems fester. Contact Mount Valley Foundation Services today to schedule your free inspection.
FAQs
The process usually takes less than a day, given the minimal excavation and rapid installation techniques employed.
Through gradual and calculated tightening of the steel rods over an extended period, your foundation walls can be restored to their original level condition.
Most of the time, the channel anchors can be seamlessly incorporated into your existing basement structure, reducing the need for substantial post-installation renovations.
Publish Date:
Last Modified Date: