AquaStop FreezeGuard™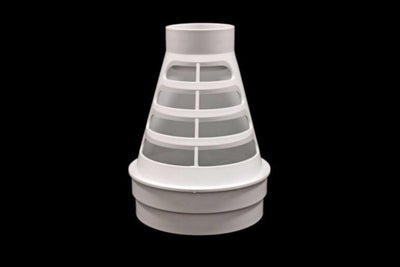 Sump pumps are an excellent measure to prevent basement flooding throughout the year, however winter months in the Carolinas can bring particular concerns. For effective water removal, your sump pump requires unobstructed lines. If those lines freeze, your home could encounter serious issues. Freezing is a common challenge homeowners across South Carolina and Western North Carolina face, but with the right solution, it doesn't have to compromise the safety of your basement.
Mount Valley Foundation Systems' AquaStop FreezeGuard™ is a winter-proof attachment that ensures peace of mind that your basement stays dry. This is just one component of a comprehensive basement waterproofing solution. This page gives you a detailed understanding of the AquaStop FreezeGuard™, its benefits, and why it is indispensable for safeguarding your home during the cold winter months.
What is the AquaStop FreezeGuard™?
The AquaStop FreezeGuard™ is a cutting-edge attachment that connects to your sump pump system's exterior discharge line just outside your home. It acts as a secondary escape route for water, mitigating backflow and basement flooding and decreasing the risk of sump pump burnout. If your discharge line becomes blocked or frozen, water is redirected to the FreezeGuard™, where it is safely released.
This innovation is part of Mount Valley Foundation Systems' broader whole-home solution, which includes advanced basement water management systems. When integrated correctly, a well-designed waterproofing system works synergistically with the AquaStop FreezeGuard™ to offer complete protection against water-related damage.
Signs You Need the FreezeGuard™ Attachment
This specialized attachment is particularly beneficial if your basement exhibits the following problems during winter months:
Regular formation of ice around the foundation or discharge area
Strain or noise from the sump pump
History of frozen discharge lines
Efflorescence on basement walls or floors
Basement moisture, regardless of the entry point, is a serious issue leading to detrimental effects. It can compromise both your health and your home's structural integrity. Upon noticing these issues in your basement, reach out to Mount Valley Foundation Systems promptly for a free inspection and repair estimate.
Is an Anti-Freeze Exterior Sump Pump Discharge Line Attachment Necessary?
An anti-freeze discharge line attachment like AquaStop FreezeGuard™ is indispensable for homes susceptible to frozen discharge lines. Without this protective measure, your basement is at risk of recurrent flooding every winter, resulting in mold, mildew, structural damage, and loss of valuables.
Don't wait for disaster to strike—be proactive. Secure your home with the FreezeGuard™ attachment. It's a worthwhile investment that prevents expensive water damage in the future.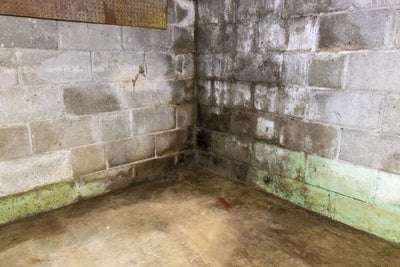 What Are the Benefits of the AquaStop FreezeGuard™?
The AquaStop FreezeGuard™ offers numerous advantages, such as:
Preventing Pipe Freezing: The FreezeGuard™ facilitates water outflow while avoiding backflow if the line freezes, maintaining sump pump operation and a dry basement throughout winter.
Protecting Your Foundation: By averting basement floods from frozen discharge lines, the FreezeGuard™ shields your foundation from progressive water damage.
Providing Reassurance: With FreezeGuard™, you have one less thing to worry about. Rest easy knowing that your basement is secure from flood risks due to frozen discharge lines.
For maximum effectiveness, the FreezeGuard™ should be professionally installed using our proven techniques. The team at Mount Valley Foundation Systems custom fits the FreezeGuard™ using top-quality materials to ensure optimal performance and durability.
How the AquaStop FreezeGuard™ Attachment Works
The FreezeGuard™ attachment is an integral part of our complete basement waterproofing system. Here's an overview of what the installation of this comprehensive solution entails:
Detailed inspection by a Mount Valley Foundation Systems expert
Attaching a vapor barrier to the basement walls
Installing an interior drainage system in the basement's sub-floor
Placing a sump pump in the lowest part of the basement
Connecting the drains to the sump pump
Routing internal discharge pipes to the sump pump
Directing pipes out through the basement wall
Adding exterior sump pump discharge pipes
Attaching the FreezeGuard™ to the exterior pipes
Extending and burying the discharge pipes in the ground, draining to a designated outlet
Testing the sump pump and FreezeGuard™ attachment
Installing an energy-efficient basement dehumidifier
As the leading authority in basement waterproofing in South Carolina and Western North Carolina, we minimize disruption to landscaping or underground utilities during installation. Our FreezeGuard™ installation process is meticulously engineered for lasting performance, guaranteeing quality and effectiveness.
Why Our AquaStop FreezeGuard™ Attachment is the Best Choice for Your Home
We provide the premier anti-freeze discharge line attachment due to its stand-out features:
Superior custom design and build quality
Effectiveness in extreme temperatures
Ease of installation
Warranty protection
Inclusion in our annual maintenance service plan
Contact Mount Valley Foundation Systems for Basement Waterproofing Solutions Today!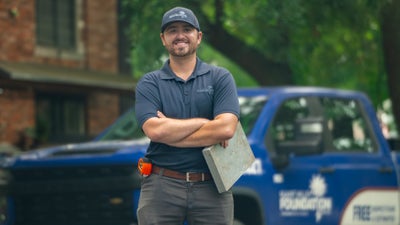 Basement flooding is never convenient, but it can be especially devastating in winter. Don't leave your home's protection to chance. Defend your basement with the tried-and-tested AquaStop FreezeGuard™ from Mount Valley Foundation Systems.Contact us today for your free inspection and estimate. Our waterproofing experts will assess your home and recommend tailored solutions, including the FreezeGuard™ attachment. Invest in the health and comfort of your home today.
FAQs
The FreezeGuard™ is designed to work in conjunction with other basement waterproofing solutions such as sump pumps and interior drainage. The overall cost of basement waterproofing is determined by various factors assessed during a free inspection, including the extent of basement damage and required repairs. Contact Mount Valley Foundation Systems today to learn more.
Our team efficiently installs the FreezeGuard™ attachment as part of a comprehensive basement waterproofing installation. The duration varies depending on the size of your basement, the extent of any damage, and the specific solutions that need to be implemented alongside the attachment.
Our installation process is meticulously designed to minimize disturbance to your lawn and landscaping. For more information about our installation procedures, please contact Mount Valley Foundation Systems for a free inspection.
Publish Date:
Last Modified Date: