Basement Dehumidifier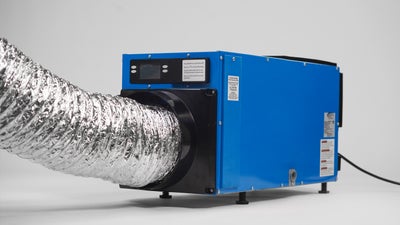 Issues such as elevated humidity, mold growth, and musty smells are prevalent in basements but should never be considered normal. These problems can negatively impact your property and well-being, but a practical solution is within reach.
Mount Valley Foundation Services' innovative AquaStop™ Basement Air System is a proficient dehumidifier and filtration mechanism that eradicates humidity, ensuring a dry, pleasant basement atmosphere.
Renowned as the experts in basement waterproofing and humidity management in South Carolina and Western North Carolina, we are dedicated to providing comprehensive basement solutions to enhance the healthiness of your dwelling.
This page will navigate you through our unique whole-home solutions and their benefits to your health and living standards, aiding you in making an informed decision for your household.
What is Mount Valley Foundation Systems' AquaStop™ Basement Air System? 
Our AquaStop™ Basement Air System is a cutting-edge dehumidifier crafted to effectively tackle basement humidity.
It is capable of extracting up to 100 pints of water from the air daily, circulating more than 300 cubic feet of dry air per minute. The system embodies a compact design, eliminating the cumbersome appearance that is typical of traditional dehumidifiers, while ensuring peak efficacy.
This system is integral to our holistic approach for basement waterproofing and humidity management. We address water infiltration through interior drainage, sump pumps, and by combating vapor intrusion with a robust wall vapor barrier. Following these measures, we install the dehumidifier to alleviate the residual humidity.
This all-encompassing strategy guarantees a dry, wholesome ambiance in your basement and throughout your residence.
Indicators That You Require a AquaStop™ Basement Air System 
The presence of the following signs indicates the necessity for a dehumidifying solution:
Prompt recognition of humidity issues and timely seeking of professional aid are essential in averting the escalation of these issues.
Contact Mount Valley Foundation Services at the earliest signs of any of these symptoms or if you suspect water intrusion in your basement. Swift intervention can save you resources and prevent additional complications.
Is Installing a AquaStop™ Basement Air System Necessary? 
Absolutely, if there has been water in your basement, a AquaStop™ Basement Air System is indispensable, not just an extravagance. Persistent humidity can instigate mold proliferation, infrastructural degradation, increasing repair expenses, and a compromised living environment.
We advise against DIY remedies, as standard dehumidifiers are inadequate for extensive basements and high volumes of moisture, necessitating frequent maintenance.
Merely waterproofing is insufficient in fully eradicating dampness. Our advanced Basement Air System is indispensable in actively extracting moisture from the air and regulating the atmospheric conditions.
However, this is just a segment of the solution; it plays a pivotal role in Mount Valley Foundation Services' comprehensive approach to ensure you confront these challenges effectively.
Advantages of Mount Valley's AquaStop™ Basement Air System 
Mount Valley Foundation System's Air System brings forth several benefits:
Effective Moisture Extraction: With a remarkable capacity of removing 100 pints daily, it promptly lowers humidity levels, circulating dry air throughout the basement.
Economical Operation: Our system operates at a lower cost compared to other dehumidifiers, marking it as an energy-efficient choice.
Mold Deterrence: The dehumidifier inhibits mold formation by maintaining relative humidity levels below 60%.
Odor Elimination: It eradicates stale, musty smells by reducing moisture levels and purifying the air, leaving your basement fresh.
Overall Household Improvement: The entire house experiences a drier and healthier environment as the basement's humidity is controlled, preventing the moisture from migrating to upper levels.
To fully experience these benefits, utilizing our specialized solutions and expert installation services is vital. We have developed our products to surpass the offerings available in regular stores.
How Mount Valley Foundation Systems' Basement Air System Works 
Our method of incorporating the AquaStop™ Basement Air System into a whole-home solution is meticulous:
Assessment: Inspect the basement and determine dehumidification needs.
Vapor Barrier Installation: Apply a vapor barrier on basement walls.
Interior Drainage System Installation: Set up an internal drainage system.
Sump Pump Placement: Locate a sump pump at the basement's lowest point.
Drain Connection: Link the interior drains to the sump pump.
Dehumidifier Placement: Strategically position the dehumidification unit to optimize air circulation.
System Connection: Attach the air system to the drainage system or a condensate hose for water removal.
Settings Adjustment: Modify settings and configure digital controls.
Testing: Conduct tests to confirm optimal moisture removal.
With over two decades of expertise, Mount Valley Foundation Services' technicians proficiently install the AquaStop™ Basement Air System, ensuring unparalleled performance. Recognizing the unique needs of every home, we customize our products and procedures to accommodate your specific needs.
Why Choose Our AquaStop™ Basement Air System for Your Residence? 
Here are a few reasons why our professional-grade AquaStop™ Basement Air System surpasses alternatives:
High Capacity: Extracts up to 100 pints per day.
Self-Draining: Automatically drains moisture, eliminating manual emptying of buckets.
Efficiency: Circulates over 300 cubic feet of dry air per minute.
Reliability: ENERGYSTAR-rated.
Custom-Engineered: Specially crafted for basements, unlike retail dehumidifiers.
Compact Design: Space-saving while delivering superior performance.
Long-term Assurance: Supported by our extensive warranty and annual maintenance program.
Discover how our air system elevates dehumidification and contributes to a safer and healthier living environment.
Reach Out to Mount Valley Foundation Services for Basement Dehumidification Solutions!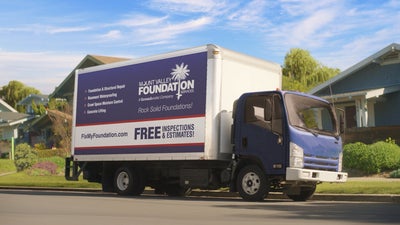 A damp, mold-infested, and musty basement can pose significant risks to your property and family's well-being. Eliminate these prevalent yet potentially hazardous issues and embrace a healthier living space with our professionally designed and installed dehumidifier. Contact Mount Valley Foundation Services today to schedule a complimentary inspection and estimate.
Homeowners across South Carolina and Western North Carolina have entrusted us with the safeguarding and repair of their homes, valuing our commitment to quality and customer satisfaction. Experience this commitment and peace of mind firsthand with our expert services.
FAQs
Yes, while engineered to operate independently, it can be incorporated with select HVAC systems using a ducting kit. 
Our system is self-draining, but we recommend an annual check-up to ensure optimal performance. 
The AquaStop™ Basement Air System operates quietly, avoiding any disruptive noise. 
Publish Date:
Last Modified Date: