Foundation Settlement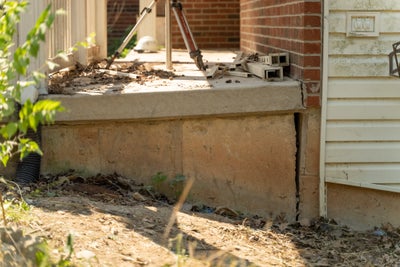 When it comes to home maintenance, your foundation stands as a crucial point of focus, given its potential to either protect your home, or damage it based on its condition. When your foundation settles unevenly into unstable soil, it's. Caring for your foundation calls for an expert hand equipped with adept solutions.
Mount Valley Foundation Services is renowned in South Carolina and Western North Carolina for its professional foundation repair services. Our team of seasoned technicians goes the extra mile to accurately diagnose the intricacies of foundation settlement, bringing to table effective solutions that ensure a stable and possibly elevated foundation.
In this detailed guide, we break down the nuances of foundation settlement to help homeowners like you stay informed and make careful decisions.
What Is Foundation Settlement?
Foundation settlement is where the home's foundation experiences an uneven descent into the soil beneath, predominantly because the soil fails to bear the structure's weight consistently.
The signs can be gradual, spanning several years, or can occur suddenly following significant environmental events like heavy rainfall or drought. This process causes portions of the foundation to slightly detach from the rest of the home, leading to wall cracks, doors and windows that stick, and uneven floors. If neglected, it can escalate into severe structural damage.
Mount Valley Foundation Services offers a range of solutions tailored to stabilize settled foundations permanently, utilizing technologies such as push piers, helical piers, and slab piers that are designed to reinforce foundations and mitigate future settlements.
What Causes Foundation Settlement? 
Several elements contribute to foundation settlement, including:
Soil shrinkage: This occurs during droughts where clay soils dry up and contract, resulting in foundation sinking. Nearby large trees can further exacerbate this by drawing moisture from the soil.
Soil expansion: In contrast, periods of heavy rains can cause the soil to absorb water and swell, pushing the foundation upwards. When the soil dries, it creates voids that facilitate foundation sinking.
Poor soil compaction: Improper compaction of the fill soils before the construction of the foundation can lead to settlement over time as the soil compresses under the weight of the home.
Erosion: The washing away of soil around the foundation due to water runoff can undermine support, a problem exacerbated by poor drainage and clogged gutters.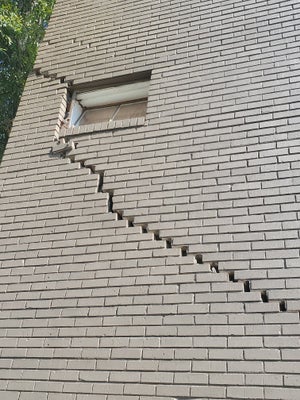 Can You Fix Foundation Settlement?
Absolutely! Foundation settlement is a fixable issue. The primary approach involves stabilizing the foundation permanently, potentially lifting settled sections to deeper, more stable soils or bedrock to bear the structure's weight.
Mount Valley Foundation Services endorses non-invasive yet highly efficient solutions over complete foundation replacements, promising cost-effective and long-lasting results.
How to Fix Foundation Settlement
Mount Valley Foundation Services stands tall with its advanced foundation repair strategies, including:
Push piers: These are steel piers driven deep into the ground to bear the foundation's weight securely, connecting to the footings with brackets.
Helical piers: Installed beneath the foundation, these piers anchor into stable soils to provide solid support.
Slab piers: Implemented to reinforce and potentially lift settled concrete slab floors, ensuring even surfaces.
Our comprehensive solutions guarantee your home's permanent stability, even offering the possibility of lifting settled sections and rectifying some damages ensuing from the settlement.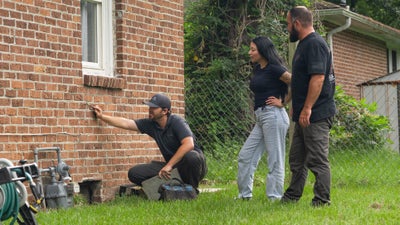 Why Address Foundation Settlement Now?
Addressing foundation settlement without delay is pivotal to:
Prevent escalating damage: Settlement tends to aggravate over time, inviting major repairs down the line.
Avoid safety hazards: Severe sinking fosters uneven floors and unstable walls, posing safety risks.
Preserve property value: Enhancing foundation integrity can elevate your home's market value, especially with our transferable warranties.
Reach Out to Mount Valley Foundation Services for Foundation Settlement Solutions
When foundation settlement concerns loom, Mount Valley Foundation Services emerges as your trusted partner in South Carolina and Western North Carolina, offering expertise in diagnosing and fixing foundation issues with piering solutions. We facilitate free, no-obligation estimates, providing you with the best repair recommendations through our expert inspections. Start your journey towards a stronger home foundation — contact us today!
FAQs
The cost fluctuates based on the damage extent and the chosen repair technique. Mount Valley Foundation Services strives to accommodate your budget, offering free estimates. 
No, in many cases foundation settlement isn't cause for immediate concern. However, it's still important to have an expert evaluate your home when you see the warning signs. Our experts can compare measurements over time to determine if your foundation settlement is progressing or causing problems for your home. 
Publish Date:
Last Modified Date:
Explore more problem signs