Slab Piers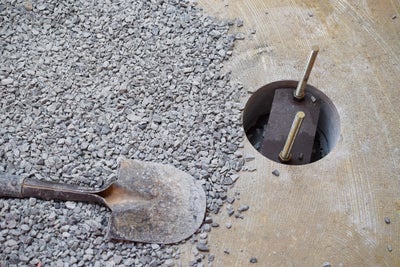 A settling slab foundations harbors plenty of potential issues, and it's important to get your home back on a stable track as soon as possible. Cracks, uneven floors, and other signs of slab settlement are not just cosmetic issues but serious indications that your home's safety and structural integrity is at stake.
Mount Valley Foundation Services is here with the perfect answer — our premium slab piers are designed to provide a permanent, warrantied solution to stabilize your home's foundation. On this page, we offer insights into why slab piers are the right choice to address your foundation problems.
What Are Slab Piers?
Slab piers are customized foundation repair instruments crafted to provide permanent stabilization to settling slab foundations. Unlike many other repair options, slab piers are exclusively designed for slab foundations, giving them a higher efficacy rate.
Acting as stable pillars, they transfer the load of your home to deeper, stable grounds, preventing any future settlements and mitigating the effects of shifting soil conditions. Beyond stabilization, slab piers have the potential to elevate your home back to its original position.
Incorporating slab piers is a critical component in a broader strategy that seeks to preserve your home's structural well-being, complementing other necessary services such as basement waterproofing and crawl space repair to guarantee the longevity of your residence.
Signs You Need Slab Piers
Understanding when you need slab piers is crucial. Here are signs that signal the need for slab pier intervention:
Although these signs may seem like aesthetic issues initially, they can signify a degrading foundation that shouldn't be ignored. Reach out to the experts at Mount Valley Foundation Services at the earliest sight of these issues.
Are Slab Piers Necessary?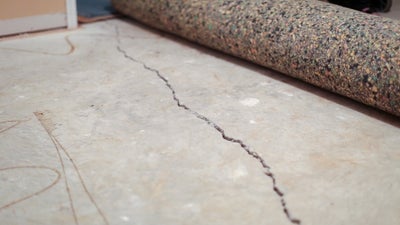 Absolutely, yes. Overlooking the signs of a settling foundation can lead to worsening problems and more costly repairs in the future. Slab piers serve as a preventive measure, saving you money while preserving your home's value for the long term.
Every home is unique, which is why Mount Valley Foundation Services offers a diverse array of solutions tailored to meet your home's specific needs, ensuring it remains safe, stable, and secure for many years to come.
What Are the Benefits of Slab Piers?
Choosing Mount Valley Foundation Services for your slab pier installation comes with several advantages, including:
Halting and preventing further settlement through the redistribution of your home's weight onto stable soil or bedrock.
Potential restoration of settled sections back to their original position.
Guaranteed long-term stability with a permanent solution.
Enhancing the value of your home.
Transferable lifetime warranty
Trust Mount Valley Foundation Services to deliver unmatched foundation repair benefits with our superior slab piers solution.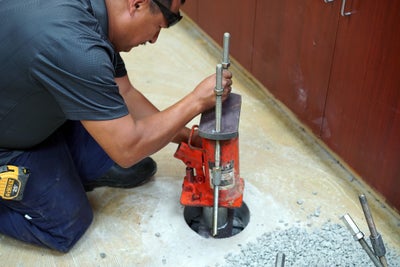 How We Install Slab Piers
Our slab pier installation process is unique and carefully executed, involving:
A thorough inspection conducted by our experts
Removing the affected flooring
Drilling a hole to access the slab footing
Installing a bracket under the footing
Extending the pier sections deep into the ground
Monitoring pier depths and capacities meticulously
Capping the pier
Placing a bracket on the slab
Transferring the building's weight onto the pier
Finalizing with cement filling and a smooth finish
Trust Mount Valley Foundation Services' expertise for a seamless slab pier installation process that prioritizes your home's structural health.
Why Our Slab Piers Are the Best Choice for Your Home
Mount Valley Foundation Services' slab piers outshine others for several reasons.
Our slabs are:
Specifically designed for slab foundations
Customized solutions meeting your unique needs
Designed to maximize stability and lifting potential
Backed by a comprehensive lifetime warranty
Supported by annual service and maintenance plans
Contact Mount Valley Foundation Services for Slab Piers Today!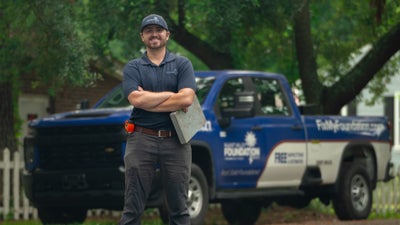 Don't let foundation damage undermine the safety and stability of your home. Secure your peace of mind by contacting Mount Valley Foundation Services for a free, no-obligation inspection today.
Rely on our experienced team to deliver a slab pier solution that stands the test of time, protecting your home's structural integrity for years to come.
FAQs
The number of slab piers needed is determined based on several factors, including the extent of the damage. Our inspectors will walk you through all the necessary details during your free inspection.
Typically, our skilled crews can install slab piers in 1-2 days, although the duration might vary depending on various factors including the number of piers required. 
The cost of slab piers depends on multiple factors, including the level of damage and the number of piers required for effective stabilization. Reach out to Mount Valley Foundation Services for a free, accurate inspection, and cost estimate. 
Publish Date:
Last Modified Date: