Foundation Piers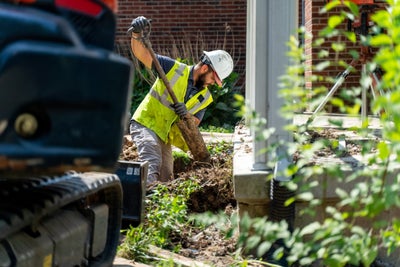 A stable foundation is vital in ensuring the safety and longevity of your home. Mount Valley Foundation Services offers specialized push piers installation services in South Carolina and Western North Carolina, providing homeowners with a robust solution to foundation settlement issues. Discover why push piers are a trusted solution and why Mount Valley is the premier choice for foundation repairs in our region. 
What Are Push Piers? 
Push piers are deep foundation solutions designed to address the issues of a settling foundation. These steel piers are driven deep into the ground, anchoring your home to stable soil layers and providing a firm foundation that prevents further settlement.
With Mount Valley Foundation Services, you can rest assured knowing that your home is anchored to a stable and reliable foundation solution – push piers. 
Recognizing Foundation Settlement Signs 
Being vigilant and recognizing signs of foundation settlement can prevent serious damages in the future. Some symptoms to look out for include:
If you observe any of these signs, it is essential to reach out to Mount Valley Foundation Services for a detailed foundation inspection.
Why Push Piers are the Right Choice 
Push piers come with numerous benefits that make them a popular choice for homeowners facing foundation issues. These benefits include:
Long-lasting solutions: Push piers are designed to last, providing a permanent solution to foundation settlement issues.
Quick installation: The installation process is swift, ensuring minimal disruption to your daily life.
Site-friendliness: The installation of push piers doesn't require extensive excavation, preserving your landscape.
Opting for push piers means choosing a durable and efficient solution for your foundation problems.
What Are the Different Types of Foundation Piers? 
At Mount Valley Foundation Services, we offer three main types of foundation piers: helical piers, push piers, and slab piers. These piers are each suited to a unique environment, allowing us to tailor our approach. We'll go over each type and how they work.
Helical Piers 
Helical piers are a type of foundation pier that is suited to both heavy and light loads. Because of their screw shaped plates, they offer a chance to elevate homes back to their original position.  
Installation Process:
Excavation of the topsoil to expose the foundation footing
Attachment of footing bracket
Advancement of piers through the bracket, deep into the ground
Monitoring of depths and capacities
Placement of benchmarks on exterior walls
Backfilling removed soil
Through this comprehensive process, we ensure the stability and safety of your home for years to come.
Push Piers 
Push piers are hot-dipped galvanized steel piers that use a home's weight to provide resistance into stable soil, creating a secure anchor. These piers are best suited for homes with heavy loads.  
Our installation process includes:
Excavating the soil to expose the footing
Using hydraulic equipment to advance the piers into the soil
Monitoring the progress until they reach the necessary depth
Attaching a durable steel bracket to the footing
Benchmarking the piers with small rivets in exterior walls
Backfilling excavated soil
Slab Piers 
Slab piers are created for homes with slab foundations. With no crawlspace or basement to use as an entry point, slab piers have to be installed within the home by removing sections of flooring to expose the foundation slab.  
Installation Process:
Removal of any flooring
Auguring a hole through the slab to expose the footing
Placing a bracket under the footing
Advancing sections of the piers into the ground
Monitoring depth
Affixing a bracket to the slab
Pouring concrete into the hole and ensure a smooth finish 
Why Choose Mount Valley Foundation Services 
Mount Valley Foundation Services stands out in the industry due to:
Experience: Leveraging years of experience in foundation repairs to offer unmatched services.
Expertise: Our team of trained professionals is skilled in handling a variety of foundation issues.
Customer satisfaction: We prioritize your satisfaction, offering seamless service from start to finish.
Warranty: Enjoy peace of mind with our transferrable warranty on push piers installation.
Get in Touch with Mount Valley Foundation Services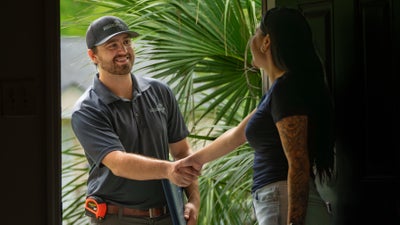 Secure your home's foundation with the best in the industry. Contact Mount Valley Foundation Services today for a free foundation inspection and consultation. 
FAQs
Push piers are versatile and can be used for a wide variety of homes, irrespective of the size or construction type. Our team will assess your home to ensure push piers are the right solution for you. 
Typically, the installation process for push piers can be completed within a few days, depending on the complexity of the project. 
Yes, in most cases, homeowners can stay in their homes during the installation process, as push piers installation is less intrusive compared to other foundation repair methods. 
Publish Date:
Last Modified Date: