The IntelliBrace™ Wall Repair System
Are you noticing cracks or bowing in your basement walls? These seemingly small issues could be indicators of a larger problem — an unstable home foundation. Waiting for the situation to deteriorate isn't the best approach. Instead, consider the innovative IntelliBrace™ Wall Repair System by Mount Valley Foundation Services — a state-of-the-art solution designed to address these concerns effectively.
Here at Mount Valley Foundation Services, we're dedicated to bringing advanced foundation and basement solutions to the residents of South Carolina and Western North Carolina. With a focus on cutting-edge technology, we're committed to helping you secure the integrity of your home. Keep reading to explore the advantages of the IntelliBrace™ system and discover how we can ensure the stability of your property.
What Is the IntelliBrace™ Wall Repair System?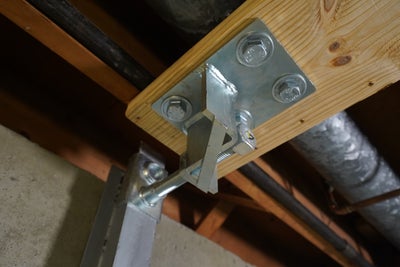 The IntelliBrace™ Wall Repair System, a patented design, provides robust stability for failing basement walls. Unlike traditional I-beams, IntelliBrace™ beams are securely anchored to both the floor joists and the basement floor for maximum stability. The system allows for incremental adjustments over time to straighten bowed walls.
What Does the IntelliBrace™ System Fix?
When it comes to safeguarding the structural integrity of your home, the IntelliBrace™ Wall Repair System steps in as a reliable solution. Designed to counteract a range of concerning indicators, this system is tailored to address specific issues within your basement. If any of the following signs are becoming apparent in your basement, it's a clear signal that the IntelliBrace™ System can deliver an effective remedy:
1. Widespread Visible Cracks on Walls
The emergence of visible cracks spanning your basement walls is a telltale sign of underlying structural stress. If these cracks have become a widespread occurrence, it's important not to overlook them. The IntelliBrace™ System works to stabilize your walls, preventing the progression of these cracks and offering the necessary reinforcement to withstand future pressure.
2. Bowing or Leaning Walls
Observing your basement walls beginning to bow or lean inward can be concerning. This bowing can result from external forces like soil expansion or water pressure. The IntelliBrace™ System counteracts this issue by providing targeted support, effectively stabilizing the walls to ensure ongoing strength.
3. Gaps Between Walls and Floor or Ceiling
Gaps forming between your basement walls and the adjoining floor or ceiling are an indication of structural misalignment. These gaps can arise from uneven settling or shifts in your home's foundation. The IntelliBrace™ System bridges these gaps, creating a seamless connection and preventing further movement to uphold the integrity of your basement's structure.
At Mount Valley Foundation Services, we understand that each of these signs represents potential risks to your home's stability. By recognizing these indicators and investing in the IntelliBrace™ System, you're taking a proactive step toward preserving the structural soundness of your property. Our commitment to advanced solutions ensures that your home remains a safe and secure haven for years to come.
Is the IntelliBrace™ System Necessary?
Absolutely. Putting off foundation repairs can lead to escalating damage and repair costs. Utilizing IntelliBrace™ technology as soon as possible can prevent future complications and ensure the structural integrity of your home. At Mount Valley Foundation Services, we offer free, no-obligation inspections and estimates tailored to your home's specific needs.

Benefits of Choosing IntelliBrace™ with Mount Valley
Minimal Installation Disruption: No need for external excavation, as the beams are installed inside your basement.
Advanced Stabilization: Superior to traditional I-beams, the IntelliBrace™ system offers unparalleled wall stability.
Potential for Wall Straightening: Gradually correct bowing walls over time.
Customized Solutions: We tailor each installation to suit your home's specific structural challenges.
The Mount Valley Installation Process for IntelliBrace™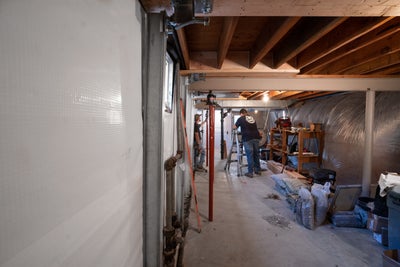 1. Comprehensive Inspection
Before recommending the IntelliBrace™ system, our Mount Valley experts conduct a thorough assessment of your basement walls.
2. Customized Beam Cutting
Our technicians cut each IntelliBrace™ beam to match your specific basement height.
3. Floor Joist Installation
We securely anchor the top of each beam to your floor joists.
4. Beam Positioning
Each beam is carefully positioned to be plumb or vertical for optimal performance.
5. Floor Anchoring
Finally, we anchor the beams to your basement floor, completing the installation process.
Why Choose Mount Valley Foundation Service's IntelliBrace™ System?
Engineering excellence
Durable, long-lasting materials
Minimal disruption
Potential for wall straightening
Excellent customer support and annual maintenance services
Contact Mount Valley Foundation Services for IntelliBrace™ Today!
Don't put off essential repairs for your bowing basement walls. Contact Mount Valley Foundation Services today for a free, no-obligation inspection and secure your home's structural integrity.
IntelliBrace™ Wall Repair System FAQs
After installation, IntelliBrace™ beams typically require minimal maintenance. Regular visual checks are recommended, but no major upkeep is necessary, making them a convenient and effective long-term solution. 
Yes, IntelliBrace™ beams are designed as a permanent solution for basement wall problems. Their robust construction and strategic installation ensure enduring stability and protection against future issues. 
Generally, ensuring clear access to the affected walls and removing any obstacles is helpful. Our experts will assess your specific situation and guide you through any necessary steps prior to installation.
Resources